The Ford Performance TechLine phone system is online. Call us at 800-367-3788.
For the hearing- or speech-impaired: Please contact the Telecommunication Relay Service by dialing 711.
2015-2020 MUSTANG HP PERFORMANCE PACK 19" X 9.5" FRONT WHEEL - MATTE BLACK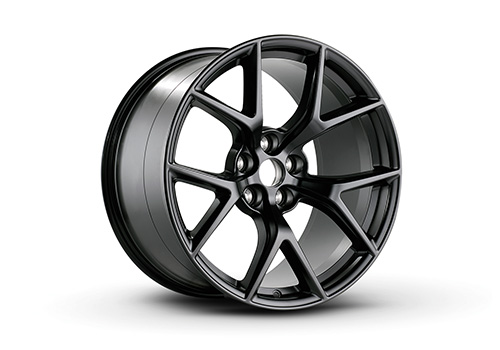 M-1007-DC1995MB
Sold in Units of
Each (1)
Instruction Sheet
Not Available
These Ford Performance Parts Mustang "HP" Wheels are born from the bold and exciting 2018 Mustang GT Performance Pack 2 vehicles. They are available in two front and two rear wheel sizes to fit 2015-2019 Mustang GT and EcoBoost Models.
Fits 2015 - 2020 Mustang GT and EcoBoost(TM) Models (Front 19" x 9.5")
Ford Performance Parts Mustang HP Wheels feature:
Matte black paint finish, clearcoated to OEM standards
Same styling as 2018-2019 Mustang GT Performance Pack 2 wheels with a unique Ford Performance matte black paint finish
Includes M-1096-FP3 "Ford Performance" Center Cap
Clears Performance Pack 6-Piston Brakes
Valve stem TPMS compatible - use with M-1180-B TPMS Sensor and Activation Tool Kit
5-Lug, 114 mm (4.5") bolt circle
40 mm Offset, 6.9" backspacing
Available in a staggered four wheel kit with 19" x 19.5" front, 19" x 10" rear wheels, "Ford Performance" Center Caps and TPMS Sensor and Activation Tool Kit (Kit part number M-1007K-DC19MB)
Part Type
Chassis: Wheels
Warranty Availability
Not Available
Packaged Dimensions
21" x 12" x 21