302 SIAMESE BORE WET SUMP BLOCK
This part is no longer available.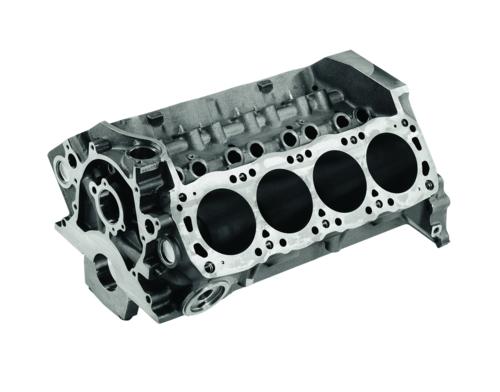 M-6010-S302
Instruction Sheet
Not Available
M-6010-S302* 8.700" "Tall" Deck Height
Cast iron block with 4-bolt main caps on journals 2, 3, 4 and strengthened structural sections
Nodular iron main caps
Can be bored/stroked to produce 380 cu. in.
8.700" deck height
Siamese cylinder bores
Wet sump oiling design
2.248" main journal diameter (stock 302 size)
Weighs approximately 175 lbs.
For professional competition
Semi-finished lifter bores and main bearing bores—must be honed to fit
Uses common OD cam bearings M-6261-J351/R351. See page 75 NOTE: Siamese blocks are solid casting between the cylinder bores. There are no water passages between them. This is done to increase the strength of the block.
Part Type
Engine: Engine Blocks
Warranty Availability
Not Available
Package Dimensions
21" x 14.25" x 22.75"
Country of Origin
United States