COYOTE CAST IRON RACE BLOCK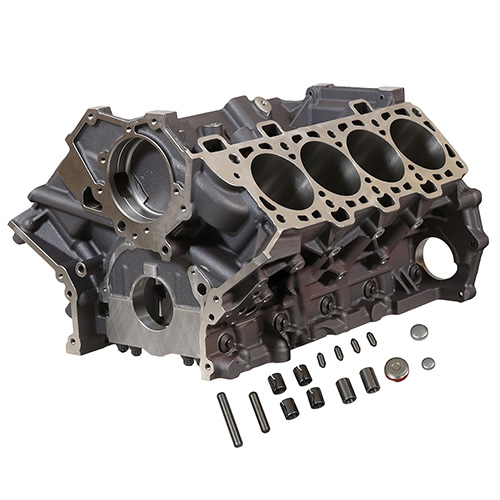 M-6010-M50X
Sold in Units of
Each (1)
Instruction Sheet
Not Available

Ford Performance cast iron version of the 2011-2017 Coyote engine block. Cast from a proprietary grade class 50 iron. Designed for extra strength for max-effort/boosted Coyote engine builds.
Deck height: 227 mm (8.937")
Finished bore: 92.2 mm (3.630")
Maximum bore; 95.0 mm (3.740")
Maximum stroke: 99 mm (3.897")
Maximum displacement: 5.6L
Standard Coyote 100 mm bore spacing
Lengthened bores for added strength
Revised deck design for added strength around the water jackets
Utilizes 12 mm head bolts
Billet steel 6 bolt main caps with ARP hardware
Accepts Gen 1 and Gen 2 Coyote 5.0L cylinder heads
Accepts Gen 1, Gen 2, and Gen 3 GT350 5.2L cylinder heads
Requires head gasket to match cylinder head
Installation of 'O-ring' style head gaskets recommended for 95 mm bore applications
Recommended forged steel crankshafts M-6303-M52B or M-6303-M52P
Part Type
Engine: Engine Blocks
Warranty Availability
Not Available
Package Dimensions
25" x 24" x 31"
Country of Origin
United States