351 ALUMINUM BLOCK 9.2-INCH DECK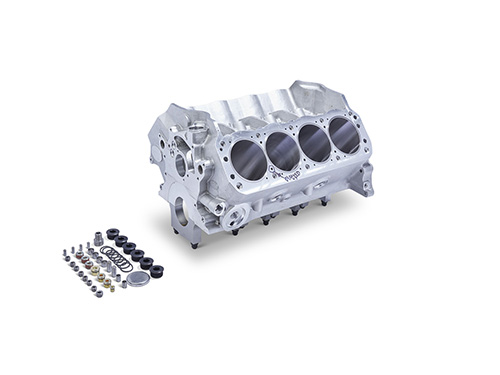 Ford Performance has added 9.2" deck height version of its Z351 aluminum Windsor block to its product line. This new 9.2" deck height block is great for smaller displacement builds without the penalty of a taller deck. Like the 9.5" deck height version, the block is cast from high strength 356-T6 grade aluminum and uses splayed 4 bolt main caps on #2-3-4 mains. The block is "user friendly" and designed to use conventional Windsor components like cam, timing chain, timing chain cover, oil pan and oil pump. With a weight of 106 pounds, it's nearly 90 pounds lighter than an iron Ford Performance Parts BOSS 351 block.
High strength aluminum block, 356-T6 grade aluminum
Splayed 4-bolt, steel billet main caps on 2,3 and 4
2-bolt main caps on 1 and 5
ARP® Studs on all inner mains; ARP® bolts on 2-3-4 splayed outer positions
Uses standard Windsor timing chain, timing chain cover, oil pan and oil pump
4.110"-4.115" bore as delivered, cast iron sleeves – finish at 4.125"
9.2-inch deck height, 2.75-inch crankshaft (351C) main journal diameter. 2.9415-2.9425" diameter finished main bearing bore
Lifter bores finished .8753"-.8768"
2.2032-inch - 2.2052-inch diameter cam bearing bores. Uses cam bearing PN M-6261-J351 or M-6261-R351
Maximum stroke 4.000-inch
Wet Sump Oiling System
Weight 106 lbs.
Part Type
Engine: Engine Blocks
Warranty Availability
Not Available
Package Dimensions
25" x 24" x 31"
Country of Origin
United States