5.0L "CAMMER" MODULAR CRATE ENGINE ASSEMBLY
This part is no longer available.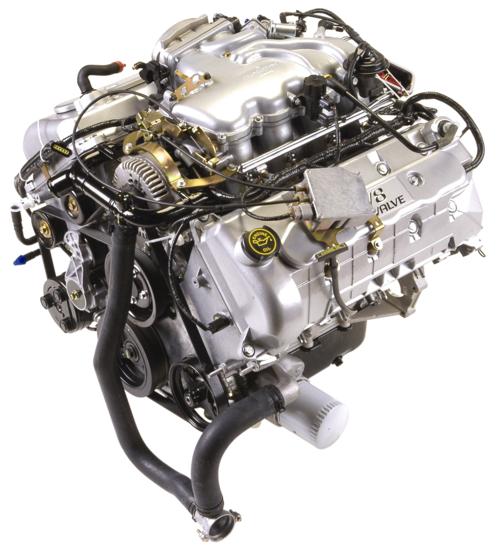 M-6007-T50EA
Instruction Sheet
Not Available
M-6007-T50EA* The 5.0L DOHC 4-valve "Cammer" engine is an upgraded variant of the 4.6L DOHC 4-valve Mustang Cobra engine, with numerous changes for improved power and durability. This engine is completely electronically managed. This will allow the engine to be used for many applications. With proper headers (not included) and low restriction air intake and vehicle exhaust systems, the engine will exceed 400 Bhp and have a very broad torque curve, peaking over 365 ft./lbs. Among the many features of the 5.0L Cammer are:
Variable geometry long/short runner, magnesium intake manifold assembly
All new Ford Racing 356 alloy aluminum block, specifically designed for this 5.0L engine program
Ford Racing high-flow cylinder heads
Ford Racing 12mm lift camshafts with unique valves, springs and rocker arms
High-strength racing connecting rods
Forged pistons with 11:1 compression ratio (nominal)
Complete with power steering pump, alternator and air conditioning compressor
Photo and specs may vary
This assembly is basically a complete package of all the high-performance modular DOHC 4-valve components being offered in the Ford Racing Performance Parts Catalog. These parts are currently in use as the core for a number of widely varying race engine applications. Modular 4.6L and 5.0L DOHC 4-valve engines have been successfully used in drag racing, circle track and road racing. Further component development takes place on a continuous basis at Ford Racing, and will result in ever expanding parts availability for this engine family.
Part Type
Engine: Complete Engines
Packaged Dimensions
36.5" x 38.75" x 36
Packaged Weight
669 lb(s)
Country of Origin
United States