ECO 5.0L COYOTE POWER MODULE AUTOMATIC TRANS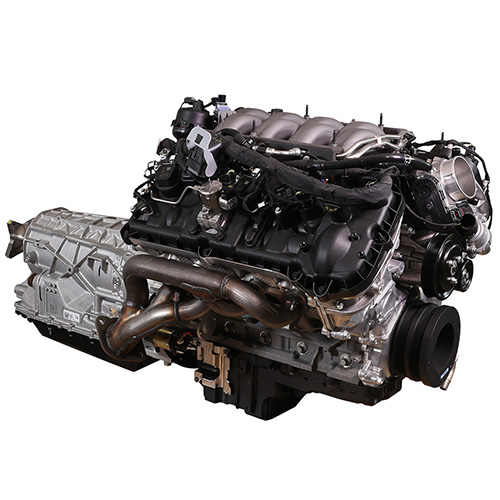 M-9000-M50AE
Sold in Units of
Each (1)

The "Fifty States Street Legal" icon means that this part has been determined by the California Air Resources Board (CARB) not to have an adverse effect on emissions when installed and used properly in the application(s) identified in the product description. Under EPA and CARB policy, such parts may be installed in vehicles driven on public roads and highways.

Ford Performance Parts Eco 5.0L Power Module is now available. This kit was developed to allow performance enthusiasts to install a 5.0L Gen 3 Mustang crate engine into any pre-1996 vehicle that originally had emissions equipment - including OBDI vehicles. CARB EO#: D-308-14
The Eco 5.0 Coyote Power Module teams the Mustang GT 460 horsepower 5.0L Coyote V8 with a state of the art 10 speed automatic transmission - and all the electronics and hardware to finish the installation. The engine features advances like Direct and Port Fuel Injection, Twin Independent Variable Camshaft Timing, and a lightweight plasma transferred wire arc spray aluminum engine block. Coyote Power Module simplifies both the shopping and build experience by kitting up the right parts that are matched to deliver potent performance with civilized drivability. The engine Control Pack is truly plug and play and simplifies conversions to a modern electronically fuel injected V8 high performance engine for vehicles requiring a CARB compliant solution.
Mustang GT 5.0L Coyote Engine -

M-6007-M50CAUTO

460 Horsepower @ 7,000 rpm
420 lb.-ft. Torque @ 4,600 rpm
12.0:1 Compression ratio
Aluminum block
M-8600-M50BALT

Boss alternator kit

M-11000-C50A Starter and starter Index Plate
Eco 5.0 specific Control Pack with PCM calibration
M-9926-M50B Mustang Bullitt™ 87mm throttle body
M-12655-F ProCal 4 tool for module configuration
M-9603-M50 Mustang cold air intake
Factory Mustang GT 10R80 10 speed automatic transmission, flexplate, and torque convertor
Factory Mustang GT 10R80 shifter
Factory Mustang GT U-joint companion flange
Factory Mustang GT transmission cooler and lines
Left and Right Mustang catalytic converters
Upstream and downstream O2 sensors
Runs on pump gas
Installation hardware
Part Type
Engine: Complete Engines
Box 1 Dimensions
42" x 29" x 48"
Box 2 Dimensions
24" x 24" x 38"
Box 3 Dimensions
36.5" x 61" x 36"
Country of Origin
Multiple Cntry Mfg. Locations