Due to COVID-19 staffing precautions, the Ford Performance TechLine phone system is offline. We are still here to help. Live Chat is available. Click here for contact information.
572 CUBIC INCH 655 HP BIG BLOCK STREET CRATE ENGINE-REAR SUMP PAN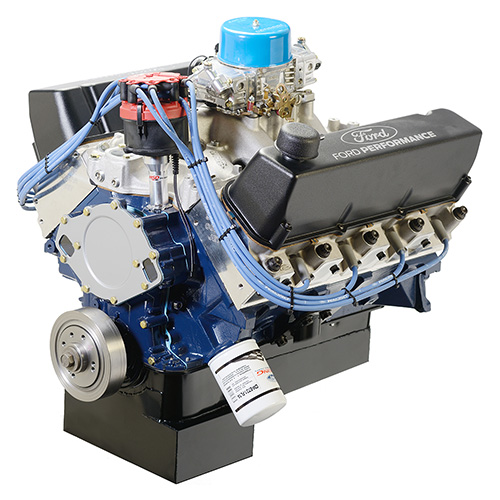 M-6007-572DR
Sold in Units of
Each (1)
WARNING:

This part is designed and intended for competition use only. It should not be installed on a vehicle that is driven on public roads and highways. Installation of this part on a vehicle driven on public roads and highways is likely to violate U.S. and Canadian laws and regulations relating to motor vehicle emissions.

The BIG BLOCK is BACK!
This 572 cubic inch big block crate engine makes impressive power with excellent driveability while utilizing premium, unleaded pump gas.
655 Horsepower @ 5500 rpm
710 lb.-ft. torque @ 4500 rpm
Engine type: 385 Series 'Big Block'
Displacement 572 cubic inches
Bore x stroke 4.500" bore x 4.500" stroke
Block: Ford Performance A460 Big Block M-6010-A460
Crankshaft: SCAT® forged steel
Connecting rods: SCAT® forged steel H-beam connecting rods and ARP® bolts
Pistons: Diamond Racing® with floating wrist pins
Camshaft:

Hydraulic roller
Lift: .649"
Duration: Intake-259 degrees @ .050" lift/ Exhaust-263 degrees @ .050" lift

Cylinder heads:

Ford Performance "Super Cobra Jet" Aluminum Cylinder Heads M-6049-SCJA
Valve springs: Dual with damper
Intake valves: Stainless steel-2.20" diameter
Exhaust valves: Stainless steel-1.76" diameter

Compression ratio: 10.0:1 (nominal)
Required fuel: Premium unleaded
Rocker arms: Crower® Stainless Steel Roller Rockers
Timing chain: Ford Performance Multi Index Timing Chain Set M-6268-A460
Oil pump: Heavy duty, aluminum body Jon Kaase® oil pump
Vibration Damper: Ford Performance SFI approved
Balanced: Internally balanced-use neutral balance flywheel (not included)
Oil Pan: Ford Performance Deep Rear Sump Oil Pan M-6675-DRS460

Intake Manifold: Edelbrock® Victor® 2966
Carburetor: Holley® Street Avenger 870 cfm
Distributor: MSD® distributor
Water Pump: High Performance Edelbrock® water pump
Spark Plug Wires: Ford Performance Blue 9mm spark plug wires M-12259-C460
Built with current available parts. Photos and specifications may vary.
Engine installation and tuning tips are available at Engine Building Tips
Part Type
Engine: Complete Engines
Packaged Dimensions
36" x 39" x 36
Packaged Weight
750 lb(s)
Country of Origin
United States