5.8L MUSTANG SHELBY GT500 ALUMINUM ENGINE BLOCK AND HEAD CHANGING KIT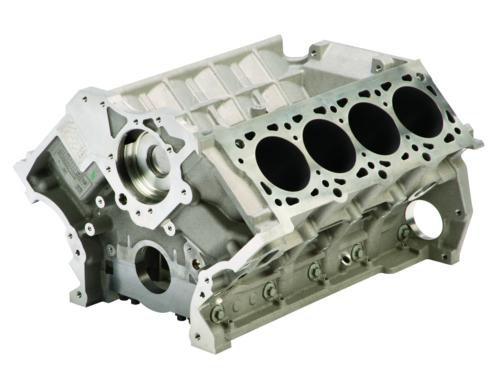 M-6010K-M58A
Sold in Units of
Each (1)
Instruction Sheet
Not Available
ATTENTION:

This part is intended as a replacement part for use only in the application(s) identified in the product description. Installation of this part in a vehicle for which it is not intended may violate U.S. and Canadian laws and regulations related to motor vehicle emissions.

Original equipment 2013-2014 Shelby Mustang GT500 engine block, head gaskets, and torque to yield head bolts-ALL IN ONE KIT!
NOTE: These blocks will require professional fitment of the main bearings to achieve the correct bearing clearance.
Approximately a 100 lb. weight savings over the cast iron 5.4L block
Six-bolt main bearing caps for high-performance durability
Block features Plasma Transferred Wire Arc spray weld liner coating
Liner coating provides improved durability and heat transfer, reduced friction, and a weight savings compared to the Ford GT aluminum block
Cylinder bores are finish honed and pistons will need to be fit to the bores
All block features are finish machined including head deck and crank bore.
Cylinder liner coating does not require unique piston rings or piston material
Kit includes M-6067-M58 multi-layer steel head gasket and torque to yield head bolts
Part Type
Engine: Engine Blocks
Warranty Availability
Not Available
Packaged Dimensions
25" x 24.5" x 31
Packaged Weight
133 lb(s)
Country of Origin
Germany