5.4L 4V ROMEO 605 ENGINE W/TVS SUPERCHARGER
This part is no longer available.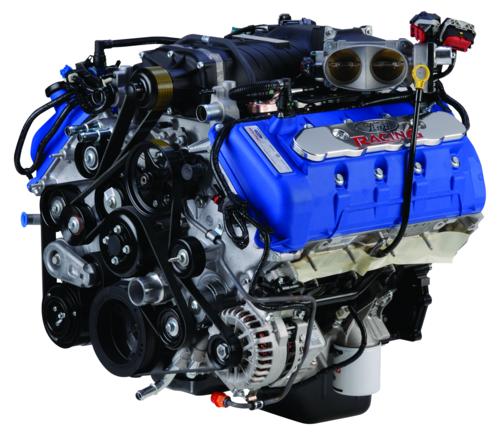 M-6007-TVS
Instruction Sheet
Not Available
Assembled at Ford Motor Company's Romeo Engine Plant Niche Assembly Line with Ford Racing's valve covers, coil covers and upgraded TVS Supercharger The Romeo 605 engine captures the essence of the SVT by offering a production-based performance engine enhanced with Ford Racing parts for increased performance and upscale appearance. The most powerful engine ever from a Ford production line! A combination of race engine shop performance and customization at production prices. 605 hp 554 lbs/ft of torque Fully dressed including accessory drive and 2.3L Twin Vortices Series (TVS) Eaton 4-lobe 160 degree twist rotors supercharger M-6066-SGT (Note: This application does not include the cold air intake) Includes powdercoated blue valve covers M-6582-C and polished billet aluminum Ford Racing Coil Covers M-6067-A and Ford Racing oil filter M-6731-FL820 Works with stock wiring or purchase Controls Pack M-6017-54SC sold seperately Perfect for your high-end project!
Part Type
Engine: Complete Engines
Warranty Availability
Not Available
Package Dimensions
24" x 43" x 36"
Country of Origin
United States