514 CUBIC INCH – 625 HP FORD RACING PERFORMANCE CRATE ENGINE ASSEMBLY
This part is no longer available.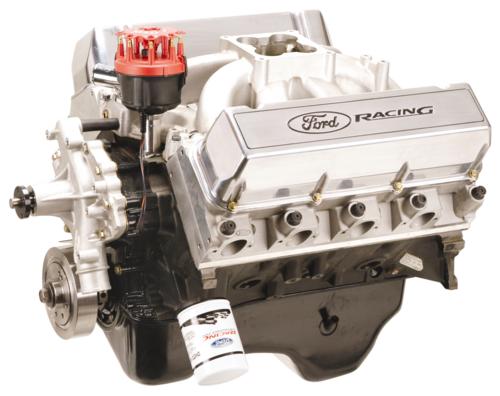 M-6007-D514
Instruction Sheet
Not Available
M-6007-D514*
Has Eagle® H-beam connecting rods M-6200-C514
625 HP @ 6250 RPM
600 ft./lbs. of torque @ 4800 RPM
9.8:1 compression ratio (nominal)
Sturdy 460 2-bolt main short block M-6009-D514
Cast nodular iron 4.300" stroker crank
Ford Racing forged aluminum dished pistons with full floating pins
Mechanical roller lifter camshaft with .647" lift, 254° intake and 258° exhaust duration @ .050" lobe lift
M-6049-SCJB "Super Cobra Jet" aluminum cylinder heads
M-9424-H429 "Victor Jr." single plane intake manifold (requires Dominator carb)
1.73:1 ratio aluminum roller rocker arms
NOTE: Oil pan is production style pan. Pan contains no baffling. Change to a high performance pan (increased capacity and baffling) that fits your application if necessary. See engine installation and tuning tips on page 28. Photo and specs may vary.
Look at what you get
A 514 cubic inch engine assembly that includes the items listed above and a multi-index timing chain, 4130 one-piece push rods, HV oil pump, pickup, oil pan, M-6582-C460 valve covers, aluminum front cover and water pump, damper, flywheel, spark plugs, related long block engine parts and remanufactured block .030" overbore – to which Ford Racing engineers have added:

Ford Racing "Super Cobra Jet" aluminum cylinder heads. They flow significantly more than production 460 heads and feature a Jon Kaase port design. Combustion chamber volume is 72cc (nominal)
Ford Racing "Super Cobra Jet" valve train includes dual-valve springs, retainers, keepers, seals and premium stainless steel swirl polished valves. Intake valve diameter is 2.20" and exhaust valve diameter is 1.76"
Ford Racing high performance solid roller mechanical camshaft M-6250-A514 provides significant horsepower increases above 3500 RPM and good low end torque. Valve lift is .640" intake and exhaust. Duration at .050" is 254 degrees intake and 258 degrees exhaust
Ford Racing forged aluminum dished pistons M-6108-B514, bore size 4.360" (+.030")
Remanufactured blocks have a clean-up cut to the cylinder head deck, align honed main bearing bore, bottom tapped holes no heli-coils), new freeze plug and cam bearings
INSTALLATION NOTES: See engine installation and tuning tips on page 28. Some or all of the following items may need to be changed from your original engine or modified for proper installation:
Performance oil pan and pick-up may be required for your application. Call the Tech "Hot Line" at (586) 468-1356 for more information.
The water pump may work for most 7.5L standard rotation applications.
The valve covers (M-6582-C460) should work for most Mustang and other applications, optional valve covers (sold separately) are available on pages 106-108.
The auto transmission flywheel should work for most C-6 automatic transmission applications. For manual transmission applications use flywheel M-6375-Z460 see below.
If a mechanical fuel pump is to be used, the front cover must be changed, and a fuel pump eccentric added to the front of the camshaft.
Firing order 1-5-4-2-6-3-7-8.
Built with current available parts. Photo and specs may vary.
Shipping weight approximately 670 lbs.
FOR MORE INFORMATION CALL THE TECH "HOT LINE" AT (586) 468-1356.
Part Type
Engine: Complete Engines
Warranty Availability
Not Available
Package Dimensions
36.5" x 38.75" x 36"
Country of Origin
United States