Due to COVID-19 staffing precautions, the Ford Performance TechLine phone system is offline. We are still here to help. Live Chat is available. Click here for contact information.
2.0L I-4 ECOBOOST CRATE ENGINE KIT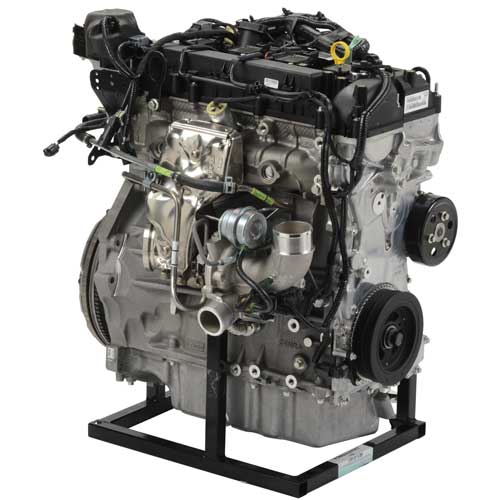 M-6007-20T
Sold in Units of
Each (1)
ATTENTION:

This part is intended as a replacement part for use only in the application(s) identified in the product description. Installation of this part in a vehicle for which it is not intended may violate U.S. and Canadian laws and regulations related to motor vehicle emissions.

Production Ford Focus ST engine
Production rating of 252 Horsepower @ 5,500 RPM
Production rating of 270 lb. ft. of torque @ 3,000 RPM
The Ford Performance Control Pack M-6017-20T IS NO LONGER AVAILABLE.
An aftermarket engine control system is necessary to operate this engine.
All-aluminum construction - about 55 pounds lighter than a comparable naturally aspirated V6 engine
9.3:1 compression ratio - Premium fuel recommended
Ti-VCT Strategy Employs twin independent variable camshaft timing for optimized fuel economy, performance and emissions
Borg-Warner Turbocharger with low-inertia rotor spins at speeds up to 195,000 rpm, producing up to 16 psi of boost

Optimized design ensures that maximum torque is achieved at very low engine revs
Peak torque available from 2,000 to 4,500 rpm

Direct-Injection high-pressure fuel system

Seven jets on each injector spray fuel directly into the combustion chamber

Engine design has been optimized for maximum operating efficiency, with a focus on minimizing friction and other parasitic losses

Low-friction coatings on the piston rings and highly polished surfaces on the tappets

Engine Kit Includes:

Starter
Alternator
Front accessory drive and belt
Intercooler and air intake ducting
Air Cleaner Assembly
Manual Transmission flexplate/flywheel

The weight of the engine only is approximately 300 lbs.
Part Type
Engine: Complete Engines
Warranty Availability
Not Available
Packaged Dimensions
36" x 65" x 36
Packaged Weight
478 lb(s)
Country of Origin
United States