2011-2014 MUSTANG 5.0L 90 MM THROTTLE BODY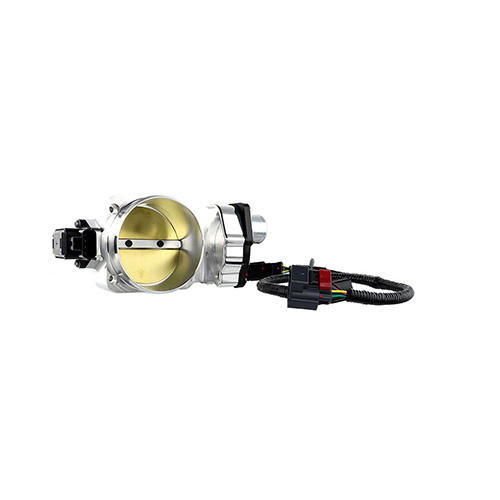 90 MM Billet Aluminum Throttle Body

Fits 2011-2014 Mustang GT/ 2012-2013 Boss 302 with stock 80mm throttle body (NOT compatible with 2015 Mustang GT)

CFM Rating:1132cfm; with adapter 1101cfm (stock 80mm throttle body: 913cfm)*


4" diameter leading edge larger than stock throttle body - requires use of 4" ID silicone hose adapter or reducer

4" air inlet tube is recommended for maximum horsepower

When using factory 3.5" diameter air inlet tube the molded rubber throttle body hose must be removed

Ford Racing's performance electronic throttle bodies are for vehicles equipped with electronic throttle control (ETC)

Includes jumper harness

Does not include calibration, calibration required.
All Ford Racing ETC throttle bodies feature:
All factory sensors installed - no need to tear apart your original throttle body

Calibrated for idle air flow using the same procedure as production throttle bodies
Throttle body features CNC'd Ford Racing logo


Precision billet construction with tapered inlet for consistent high flow

Validation through hundreds of hours of dyno, racing, and street performance driving

Polished aluminum for great looks
Requires:
Adapter: M-9474-M50 for OEM Mustang GT 5.0L 4V TiVCT intake
Adapter: M-9474-M50B for Ford Racing Boss intake M-9424-M50BR
Notes:
Adapter M-9474-M50 rotates throttle body approximately 15 degrees counter clockwise
Engine cover M-9680-M50 covers throttle body on 5.0L 4V Ti-VCT intake
Boss intake M-9424-M50BR can be port matched to accept throttle body without adapter, requires custom gasket/RTV
*All cfm ratings are calibrated at 28-inches of water, measured on SuperFlow SF-1020 Flow Bench.
Part Type
Engine: Intake Related
Warranty Availability
Not Available
Package Dimensions
6" x 4.75" x 12"
Country of Origin
United States