FORD PERFORMANCE COBRA JET INTAKE MANIFOLD FOR 5.0L COYOTE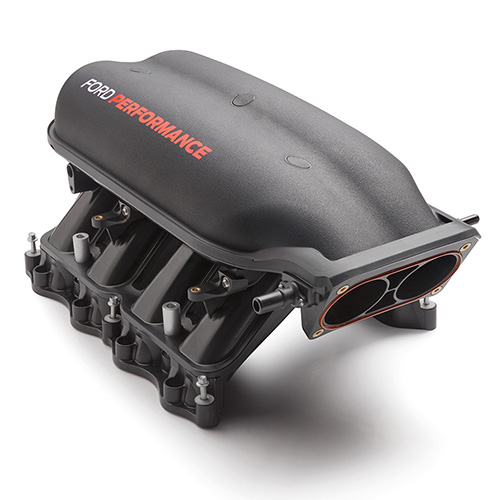 The legendary Cobra Jet intake manifold returns with an all-new more streamlined look manufactured on all-new tooling.
Developed and based on the naturally aspirated Cobra Jet Race Car, this intake manifold is one of the most popular modifications to 5.0L Coyote-equipped racers and enthusiasts.
Fits 2011-2014 Mustang GT with manual transmission and 2012-2013 Mustang BOSS 302
Fits 2015-2022 Mustang GT with manual transmission and with modifications including but not limited to-hood clearancing (modification to stock hood), and/or aftermarket hood and/or lower engine mounts
Significant power increase over M-9424-M50BR

Ford Performance BOSS 302 intake manifold, with no loss of torque



Made from lightweight composite material
Improved lid stiffness
Runners are tuned for 7750 RPM peak power
Designed and tested to 20+ PSI
Intake gaskets included
Compatible with production Mustang GT 5.0L fuel rail
Notes:
Requires Ford Performance M-9926-CJ65 or M-9926-MSVT Throttle Body
Requires Ford Performance M-9444-M50B Installation Kit for installation on Mustang GT 5.0L (inlet hose included in installation kit is not used)
Requires Ford Performance M-9603-M50CJ Cobra Jet Cold Air Kit or equivalent to mate to oval throttle body
Cobra Jet inlet tube does not have provisions for aspirator tube hook up found on automatic transmission-equipped Mustang GT
Intake manifold is not compatible with original equipment or Ford Performance strut tower braces
Nitrous oxide not recommended for use with this intake manifold
Calibration is necessary to prevent engine damage! Calibration not included!
Part Type
Engine: Intake Related
Warranty Availability
Not Available
Package Dimensions
14.5" x 11" x 24"
Package Weight
16.1 lb(s)
Country of Origin
United States