ARB 47 QT FRIDGE/FREEZER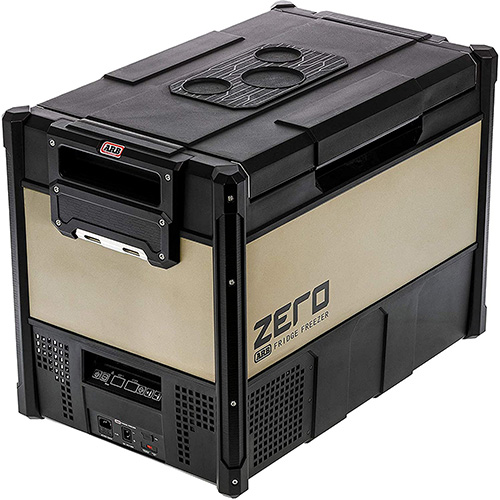 M-1830-FRIDGE47
Sold in Units of
Each (1)
Instruction Sheet
Not Available
ARB 47 QT Portable Single-Zone Fridge Freezer
The perfect fridge/freezer size for a couple or a small family heading on a long weekend away off-road or at the racetrack. Suitable for Overlanding.
The fridge/freezer features front and rear DC inlets which give the user more freedom when mounting the fridge in the car. For extra convenience, the portable fridge also features a front AC inlet for home or powered-site connection and a handy USB 5V outlet to charge your USB powered devices. Download the app to monitor or control the fridge wirelessly. It also features a front opening lid.
Capacity: 47QT (65 x 12oz cans)
External Dimensions: (L) 26.6 in x (W) 16.7 in x (H) 19.5 in
Internal Dimensions: Upper Compartment: (L) 19 in x (W) 11.5 in x (H) 8 in, Lower Compartment: (L) 12.4 in x (W) 11.5 in x (H) 7.1 in
Weight: 52.6 lbs
Cooling Capacity: -7.6 degrees Fahrenheit to +50 degrees Fahrenheit
Power: Voltage: 12/24V DC / 100 240V AC Integrated battery protection system
Current Draw: 0.8Ah (DC12V set at 41 degrees Fahrenheit, 90 degrees Fahrenheit ambient temperature)
Transmitting Module: Bluetooth connectivity allows 2-way communication on your mobile device
Part Type
Accessories: Off Road
Warranty Availability
Not Available
Package Dimensions
19" x 21.5" x 29"