GT-40X XTRA PERFORMANCE "TURBO-SWIRL" ALUMINUM CYLINDER HEAD
This part is no longer available.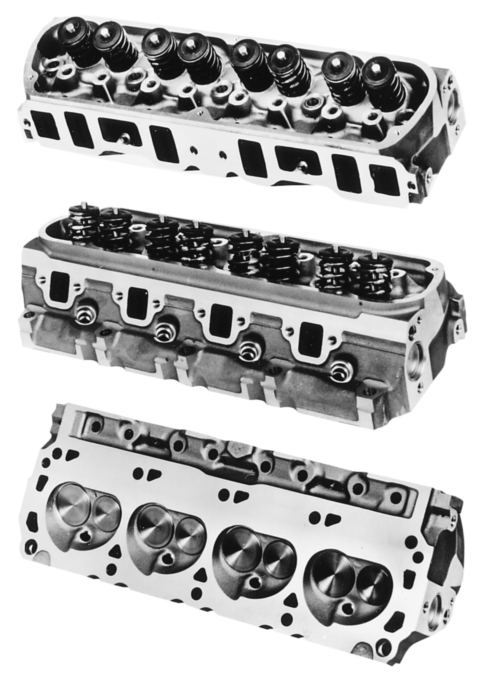 M-6049-X302
Instruction Sheet
Not Available
M-6049-X302* Bare Head (64cc Chamber) M-6049-X303* Complete Head (64cc Chamber) M-6049-X304* Bare Head (58cc Chamber) M-6049-X305* Complete Head (58cc Chamber) THE FAST, EASY WAY TO BOLT-ON 65 HORSEPOWER! TRUE BOLT-ON PERFORMANCE
For use on 289/302/351 Windsor-style engines
Improved air flow over original GT-40 aluminum heads
Intake flows approximately 240 cfm at .550" lift (at 28" of H20)
Exhaust flows approximately 170 cfm at .500" lift (at 28" of H20)
Machined for 1.94" Intake and 1.54" exhaust valve diameters
Unlike some aftermarket heads our GT-40 heads use either GT-40 or aftermarket performance: intake manifolds, headers, and valve covers.
Intake port volume 178cc, exhaust port volume 62cc
High temperature exhaust valve seats. Thick deck for improved sealing, increased section thickness in critical areas for porting, and webbed rocker bosses for improved strength. Designed for bolt-on rocker arms, machined for tapered seat spark plug or gasketed. Compatible with Ford Racing intakes, headers, and valve train components. Can be machined for diagonal exhaust header flange mounting.
High quality original equipment style 356-T6 aluminum castings, machining and components
Each aluminum head weighs approximately 22 lbs. – approximately 25 lbs. lighter than each cast iron GT-40 head.
These GT-40 style heads use AGSF-32C spark plugs
Each GT-40X head is leak tested prior to assembly
Head assembly consists of bare head M-6049-X302/X304 and GT-40 valve train kit M-6090-X302 featuring stainless steel valves. The valve springs are compatible with all Ford Racing roller camshafts. See page 99 for complete list of valve train components.
INSTALLATION NOTES:
Will not fit 1986 5.0L with flat-top pistons unless pistons are notched for valve relief
Must use head bolt kit M-6065-D289 to install cylinder heads on 289/302 blocks or head bolt and head gasket kit M-6051-A50 and intake gasket M-9439-A50/A51
Check rocker arm clearance to valve springs with production rocker arms
Check your intake manifold for port match, not all intakes are compatible due to the tall high-flow ports
Must use M-9439-A50 intake gasket
Part Type
Engine: Cylinder Heads
Warranty Availability
Not Available
Packaged Dimensions
9.25" x 7.25" x 20.5
Packaged Weight
23.4 lb(s)
Country of Origin
United States