Due to COVID-19 staffing precautions, the Ford Performance TechLine phone system is offline. We are still here to help. Live Chat is available. Click here for contact information.
Z2 289/302/351W ALUMINUM HEAD WITH VELOCITY VANE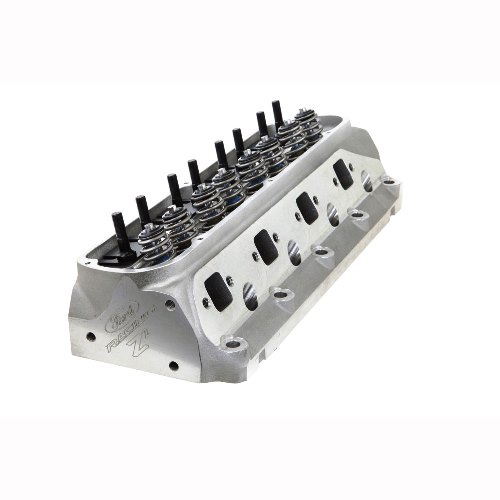 This all new aluminum small block Ford cylinder head features an advanced "Velocity Vane" intake port design that delivers outstanding street/strip power. Developed with the aid of advanced computer aided Engineering simulation tools, the unique "Velocity Vane" intake port design improves power throughout the RPM range. This high performance aluminum cylinder head is a direct bolt on for Ford 289/302/351W engines and retains OEM exhaust, intake, and accessory mounting locations.
View the dyno test results here:
Z2 Head Dyno Test Graph
Fits 289/302/351 Windsor engines




Cast from prime 356 T6 aluminum




Heads retain Ford OEM intake and exhaust port location and flange




Intake ports feature a unique "Velocity Vane" in port floor to direct airflow around the valve stem – that leads to more HP and torque throughout the full power range




20° degree inline valve angle




Premium stainless steel valves - 2.05" intake - 1.60" exhaust




PAC 1219X conical style valve springs with machined retainers and 10° machined valve locks. Most hydraulic cams can be used with these springs.




Valve spring closed pressure - 145 lbs. @1.800"




Valve spring open pressure - 358 lbs. @ 1.175"




Coil Bind @1.100" 0.650" Max Lift.




Includes laser cut guide plates for use with 5/16" pushrods and 7/16" rocker studs




Steel alloy intake and exhaust valve seats




Manganese-bronze valve guides




63cc combustion chamber




Uses gasket style 14mm spark plugs




Uses small block Ford 7/16 stud mount, 1.65 ratio rocker arms




Check piston to valve clearance including radial valve clearance before installing these cylinder heads on your engine



Uses Intake gasket - M-9439-A50 and FelPro exhaust gasket part number 1415

Part Type
Engine: Cylinder Heads
Warranty Availability
Not Available
Packaged Dimensions
8.5" x 11.5" x 26
Packaged Weight
31.85 lb(s)
Country of Origin
United States