Due to COVID-19 staffing precautions, the Ford Performance TechLine phone system is offline. We are still here to help. Live Chat is available. Click here for contact information.
7.3L V8 430HP SUPER DUTY CRATE ENGINE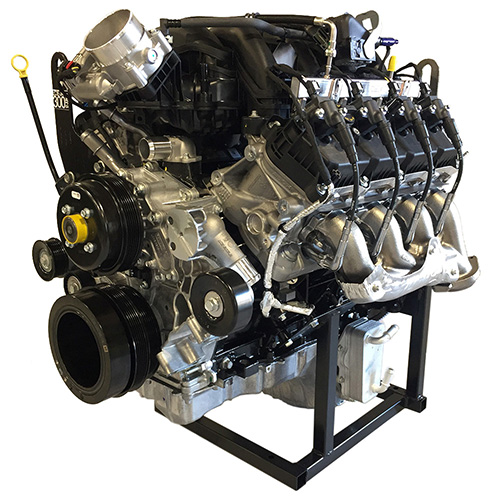 M-6007-73
Sold in Units of
Each (1)
Instruction Sheet
Not Available

The ALL-NEW 7.3L V8 'Godzilla' Ford crate engine from the 2020 F250 Super Duty features:
7.3L displacement
Bore 107.2 mm x stroke 101.0 mm
Cast iron block
Aluminum cylinder heads
Intake valve diameter 55.13 mm
Exhaust valve diameter 42.53 mm
Lift (intake/exhaust) 13.67 mm / 15.26 mm
Cam-in-block OHV design w/variable cam timing
Forged steel crankshaft
Cast Aluminum pistons
430 HP at 5,500 rpm
475 lb/ft of torque at 4,000 rpm
10.5:1 compression
Port fuel injection
Firing order: 1-5-4-8-6-3-2-7
The engine assembly includes:
Composite Intake manifold and 80 mm throttle body

Left and Right exhaust manifolds

8 quart aluminum oil pan/cooler
Ignition coils and wires
Production flex plate
M-6038-73 shipping and storage cradle
Factory lift brackets
Bellhousing bolt pattern same as 4.6/5.4 and 5.0 Coyote
Engine weight: 580 lbs.
For FEAD and control pack information, please contact the Ford Performance Techline.
Part Type
Engine: Complete Engines
Packaged Dimensions
36.5" x 44.5" x 36
Packaged Weight
737 lb(s)