7.3L V8 430HP SUPER DUTY CRATE ENGINE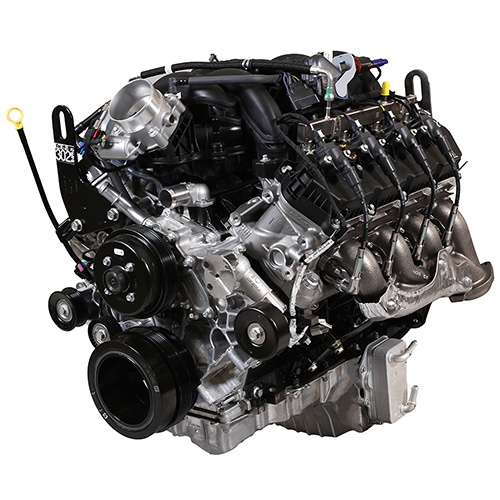 M-6007-73
Sold in Units of
Each (1)
Instruction Sheet
Not Available

The ALL-NEW 7.3L V8 Ford gasoline crate engine from the 2020 F250 Super Duty features:
7.3L displacement
Bore 107.2 mm x stroke 101.0 mm
Cast iron block
Aluminum cylinder heads
Intake valve diameter 55.13 mm
Exhaust valve diameter 42.53 mm
Lift (intake/exhaust) 13.67 mm / 15.26 mm
Cam-in-block OHV design w/variable cam timing
Forged steel crankshaft
Cast Aluminum pistons
430 HP at 5,500 rpm
475 lb/ft of torque at 4,000 rpm
10.5:1 compression
Port fuel injection
Firing order: 1-5-4-8-6-3-7-2
The engine assembly includes:
Composite Intake manifold and 80 mm throttle body

Left and Right exhaust manifolds

8 quart aluminum oil pan/cooler
Ignition coils and wires
Production flex plate
M-6038-73 shipping and storage cradle
Factory lift brackets
Bellhousing bolt pattern same as 4.6/5.4 and 5.0 Coyote
Engine weight: 580 lbs.
For FEAD and control pack information, please contact the Ford Performance Techline.
Part Type
Engine: Complete Engines
Warranty Availability
Not Available
Package Dimensions
36.5" x 44.5" x 36"