2010 MUSTANG GT / SHELBY GT500 "S" MUFFLER KIT (50 STATE)
This part is no longer available.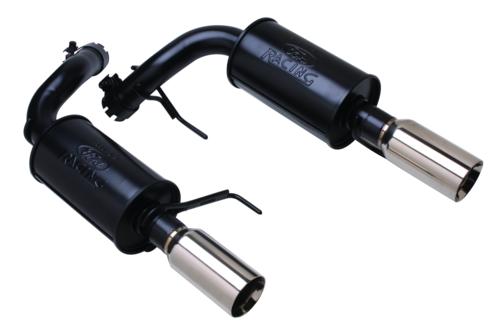 M-5230-SA
Instruction Sheet
Not Available
Standard equipment on Boss 302R
Same as M-5230-S except with black powder-coated body and extended tips to fit 2010 Mustang
409 aluminized stainless steel corrosion-resistant muffler body construction

Polished 304 stainless steel 3.5" diameter tips
Body of mufflers embossed with Ford Racing logo
Throatier exhaust note
50 state drive-by noise legal
For 2005-2009 Mustang GT or 2007-2009 Mustang Shelby GT500 see M-5230-S
Note: 409 stainless exhaust material is titanium stabilized ferritic stainless steel. 409 stainless is used in applications where appearance is a secondary consideration to mechanical properties and corrosion resistance and where some weldability is required. An example of 409 stainless usage is catalytic converter assemblies. 409 stainless has excellent forming characteristics and is rust through resistant. A surface rust will form in most instances. This rust retards further corrosion.
Part Type
Engine: Exhaust Related
Warranty Availability
Not Available
Packaged Dimensions
15" x 13.5" x 31
Packaged Weight
30.5 lb(s)
Country of Origin
United States