2011-2014 MUSTANG GT MUFFLER KIT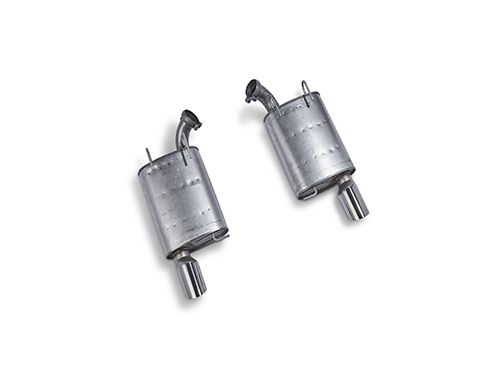 M-5230-MGTCA1
Instruction Sheet
Not Available

The "Forty-nine States Street Legal" icon means Ford Motor Company has determined that this part does not have an adverse effect on emissions when installed and used properly in the application(s) identified in the product description and may be installed in vehicles driven on public roads and highways. However, this part does not have regulatory approval for use in California and can not legally be registered or used on vehicles in California. The use of this product in California may subject the user to penalty provisions under California law.


Fits 2011-2014 Mustang GT

409 aluminized stainless steel corrosion-resistant muffler body construction

Polished 304 stainless 4" diameter tips

Throatier exhaust note

Meets 95 decibel drive-by noise standard for aftermarket exhaust systems when installed on stock applications

Standard equipment on 2011-2012 Shelby GT500

Note: 49 State Only - Exceeds California sound level requirements
Note: 409 stainless exhaust material is titanium stabilized ferritic stainless steel. 409 stainless is used in applications where appearance is a secondary consideration to mechanical properties and corrosion resistance and where some weldability is required. An example of 409 stainless usage is catalytic converter assemblies. 409 stainless has excellent forming characteristics and is rust through resistant. A surface rust will form in most instances. This rust retards further corrosion.
Part Type
Engine: Exhaust Related
Warranty Availability
Not Available
Package Dimensions
21" x 18" x 32"
Package Weight
46.1 lb(s)
Country of Origin
United States