HIGH PERFORMANCE CYLINDER HEAD
This part is no longer available.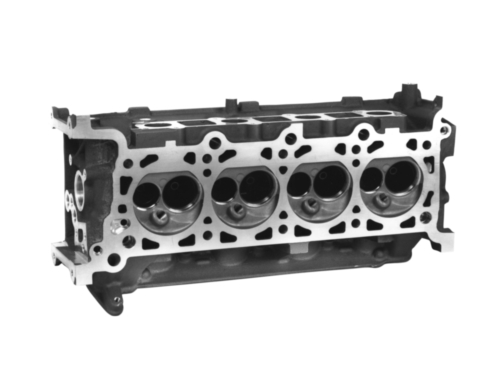 M-6049-D46
Instruction Sheet
Not Available
Complete 1996-98 Only Add approximately 35 horsepower over production 4.6L SOHC heads. This cylinder head assembly is considered to be the basic cornerstone for increased performance of the naturally aspirated engine. The primary design goal for the head is to provide increased airflow capability resulting in significant horsepower gain. Specific design features include:
Bolt-on interchangeability with the production head. All head faces (cam cover, intake manifold, exhaust manifold, and deck face) are identical to production. The head can be used with production or Ford Racing intake and exhaust manifolds, and all other accessories in production position.
Larger inlet and exhaust valve size. Intake valve M-6507-D461 diameter has increased from 44.5 mm to 46.83 mm. Exhaust valve M-6505-D461 diameter has increased from 34.0 mm to 35.88 mm. Extensive flow development was done to optimize port contours to take advantage of these changes. Final test results show approximate airflow increases over production of 27% (intake) and 44% (exhaust). The above results are at maximum production valve lift (12 mm).
Intake valve centerline has been moved 2.0 mm closer to chamber centerline. This has the effect of unshrouding the intake valve, and making better use of the increased valve size.
Potential for high-lift camshafts, larger valve springs, and additional racing port work at customer discretion.
Excellent quality chamber and port finish, 356-T6 aluminum casting.
Performance calibration recommended
51cc combustion chamber
Uses spark plug AGSF-32-C NOTE: Use of M-6067-D46 head changing kit recommended.
Part Type
Engine: Cylinder Heads
Warranty Availability
Not Available
Packaged Dimensions
12.25" x 11" x 22
Packaged Weight
38.6 lb(s)
Country of Origin
United States