2013-2018 FOCUS ST FR1 POWER UPGRADE PACK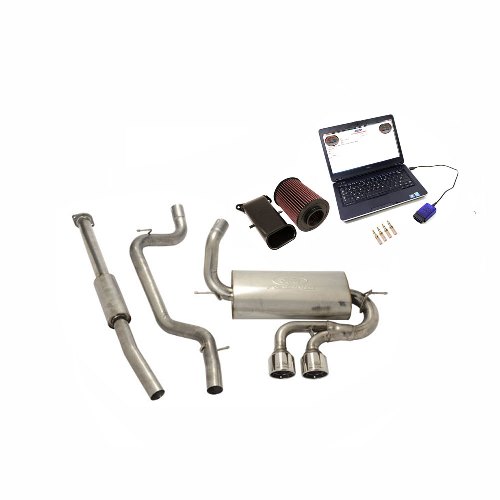 M-FR1-FSTA
Sold in Units of
Each (1)
Instruction Sheet
Not Available

The "Fifty States Street Legal" icon means that this part has been determined by the California Air Resources Board (CARB) not to have an adverse effect on emissions when installed and used properly in the application(s) identified in the product description. Under EPA and CARB policy, such parts may be installed in vehicles driven on public roads and highways.

Fits 2013-2018 Focus ST with 2.0L EcoBoost ® I-4 engine
Maximum of 90 lb-ft torque increase at 2800 rpm on 93 octane fuel
Significant torque increase up to 4200 rpm
Revised sound symposer software and calibration for more natural engine sound
Premium (91 octane or higher) fuel only
All Ford Performance Power Upgrade Packages are 50-States Emissions Legal with CARB EO (D-752-2) and eligible for limited warranty when installed by a Ford or Lincoln Dealer or ASE certified technician. See the Ford Performance Warranty section for more information.
Kit includes:
Ford Performance Focus ST Calibration with ProCal3 (Requires laptop and Internet access) and Spark Plug Kit M-14204-FSTA
2013-2018 Focus ST Cold Air Intake M-9603A-FSTA with high flow K&N/Ford Performance Air Filter.
2013-2018 Focus ST Cat-Back Exhaust system M-5200-FST
NOTE:
Powertrain calibrations are developed and supported for U.S. and Canadian vehicles only
Federal and state laws prohibit any person from installing aftermarket add-on or modified parts prior to the sale of a new motor vehicle
Spark plugs gapped to 0.028-inch (0.71mm)
Part Type
Engine: Power Packs
Warranty Availability
Not Available
Package Dimensions
42" x 27" x 48"
Country of Origin
United States