Due to COVID-19 staffing precautions, the Ford Performance TechLine phone system is offline. We are still here to help. Live Chat is available. Click here for contact information.
2019-2020 RANGER ECOBOOST POWER PACK PERFORMANCE CALIBRATION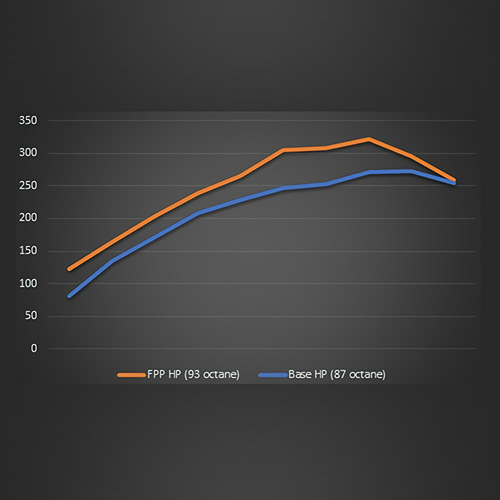 M-9603-REB
Sold in Units of
Each (1)

The "Fifty States Street Legal" icon means that this part has been determined by the California Air Resources Board (CARB) not to have an adverse effect on emissions when installed and used properly in the application(s) identified in the product description. Under EPA and CARB policy, such parts may be installed in vehicles driven on public roads and highways.
Ford Performance calibration for 2019-2020 Ranger EcoBoost. The Ford Performance engineered performance calibration is a 50 state legal calibration for your 2019-2020 Ford Ranger that increases power and improves drive-ability throughout the rpm range.
50 state legal - C.A.R.B. EO#: D-752-12
Ford Performance engineered and dyno tested
Improved drive-ability and throttle response throughout RPM range
Optimized shift schedule
Horsepower gain: 45 HP @ 4,500 RPM
Torque gain: 60 lb/ft @ 2,500 RPM
For U.S. and Canadian vehicles
Comes with Ford Performance 3yr/36k mile warranty from new vehicle in-service when installed by a Ford dealer or ASE/Red Seal certified technician
Tire size configurable up to 265/70/17 as recommended with the M-18000-R Ranger Off-Road Suspension Leveling Kit
Premium fuel - 91 octane or higher - is required
Includes Ford Performance Pro Cal 4 calibration delivery tool M-12655-F
Includes Ford Performance high-flow K&N® air filter
Part Type
Electrical: Analyzers / Calibrators
Packaged Dimensions
5" x 15" x 15
Packaged Weight
4.1 lb(s)
Country of Origin
United States