2015-2023 MUSTANG PERFORMANCE PACK 6-PISTON FRONT BRAKE KIT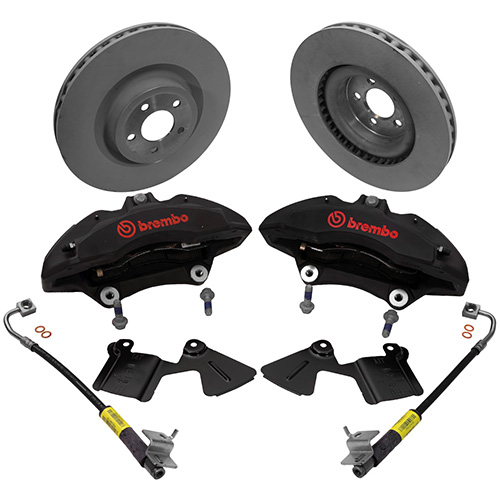 M-2300-V
Sold in Units of
Each (1)
Instruction Sheet
Not Available
Fits 2015-2023 Mustang GT and 2.3L EcoBoost
Original Equipment on 2015-2019 Mustang GT Performance Package
Brembo® 6-piston Satin Black aluminum calipers
15" vented brake rotors
Includes production brake pads, rotors, dust shields and installation hardware
Requires Ford Performance wheels M-1007-M199B, M-1007-M199S, M-1007-M199SA, M-1007-M199DS or equivalent for caliper clearance
Note: Kit includes front brake hoses to install 6-piston calipers on 2.3L EcoBoost models. Brake hoses are not used when installing this kit on Mustang GT 5.0L models.
Service Replacement Parts
To purchase service replacement parts visit your nearest Ford or Lincoln Dealer
Brake Pads
Ford Service Part: FR3Z-2001-C
Motorcraft: BRF1462
Front Brake Rotors
Ford Service Part: GR3Z-1125-L
Motorcraft: BRRF246
Part Type
Chassis: Brake Kits / Components
Warranty Availability
Not Available
Package Dimensions
15.75" x 16.5" x 13.75"
Package Weight
105.5 lb(s)