Due to COVID-19 staffing precautions, the Ford Performance TechLine phone system is offline. We are still here to help. Live Chat is available. Click here for contact information.
2015-2020 MUSTANG BULLITT(TM) BRAKE KIT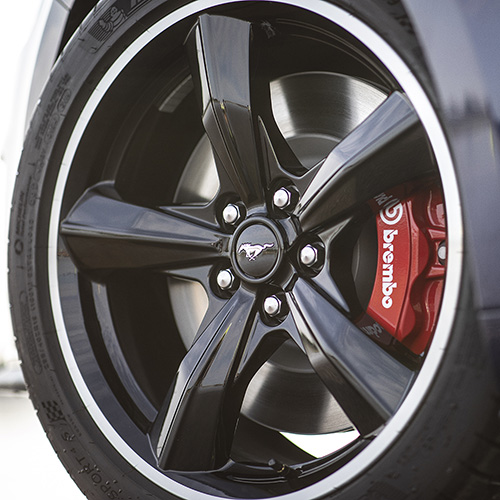 M-2300-BUL
Sold in Units of
Each (1)

Fits 2015-2020 Mustang GT 5.0L
Fits 2015 through 2020 2.3L Mustang EcoBoost Performance Pack
Does not fit 2015-2017 V6 or 2015-2017 Base EcoBoost cars
Fits both right and left hand drive Mustangs
Original equipment on 2018-2019 Mustang Bullitt(TM)
Brembo 6-piston Gloss Red aluminum fixed front calipers
Single -piston Gloss Red sliding rear calipers
Front rotors are 15"
Rear rotors are 13"
Bullitt(TM) Front Calipers
Bullitt(TM) Front Rotors
Bullitt(TM) Front Brake Pads
Bullitt(TM) Rear Calipers
Bullitt (TM)Rear Rotors
Bullitt(TM) Rear Brake Pads
Front Brake Hoses
Front and Rear Splash Shields
All needed hardware
Note: Some stock 2015-2020 Mustang EcoBoost and Mustang GT 17"and 18" wheels may not clear the Mustang Bullitt(TM) brake calipers.
Service Replacement Parts
To purchase service replacement parts visit your nearest Ford or Lincoln Dealer
Part Type
Chassis: Brake Kits / Components
Warranty Availability
Not Available
Packaged Dimensions
20.5" x 18" x 32
Packaged Weight
160 lb(s)
Country of Origin
United States