2005-2014 MUSTANG V6 COUPE 1.0" LOWERING SPRINGS
This part is no longer available.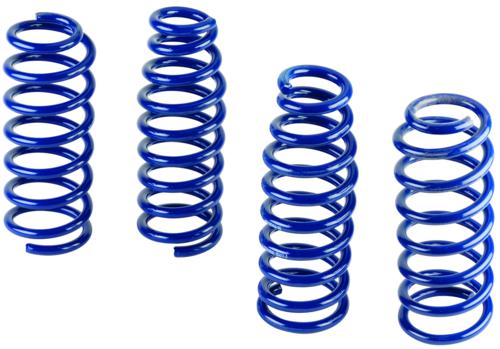 M-5300-N
Instruction Sheet
Not Available
Fits 2005-2010 Mustang V6 Coupe
Gives a more aggressive looking stance as well as increased handling dynamics
Lowers car approximately 1.0"
Progressive spring, designed for increased handling and performance
Mustang Jounce Bumper Kit M-5570-A recommended with installation of springs
May cause slightly harsher ride compared to stock springs
M-18183-C Strut Mounts recommended
Note: Some factory fasteners are one time use. Please reference a Ford service manual for reuse information and correct torque specifications. May require alignment after installation
Part Type
Chassis: Springs
Warranty Availability
Not Available
Package Dimensions
16" x 7.75" x 27"
Package Weight
33.9 lb(s)
Country of Origin
United States