GAUGE COLLECTION CHROME BEZEL SERIES KIT
This part is no longer available.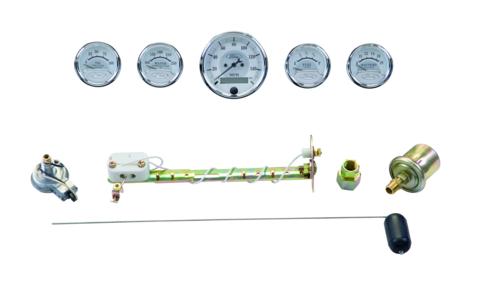 M-19017-B961
Instruction Sheet
Not Available
CHROME BEZEL SERIES (KIT)

(1)

Bezel embossed with Ford emblem
Luxurious chrome design with white background, gray sweep zone, black graphics and needle-style pointer
Includes all components necessary to install
All gauges are electric operation. Case diameter is 3-1/8" (Speedometer) and 2-1/16"(Water, Oil, Fuel & Battery)
Fuel-level sender compatibility is 240 OHM empty, 33 OHM full - 12 volt
Fuel-level sender is adjustable from 6" to 23"
Speedometer(2), Oil Pressure Gauge and Sender, Water Temperature Gauge and Sender, Fuel Level Gauge and Sender and Battery Voltage Gauge.
NOTES:

(1)

5-gauge kit includes: speedometer, oil pressure gauge and sender, water temperature gauge and sender, fuel level gauge and sender and battery voltage gauge.

(2)

Needles do not zero.
Part Type
Electrical: Gauges
Warranty Availability
Not Available
Packaged Dimensions
10.5" x 4" x 16
Country of Origin
United States