GEN 3 5.0L COYOTE POWER MODULE WITH 6 SPEED MANUAL TRANSMISSION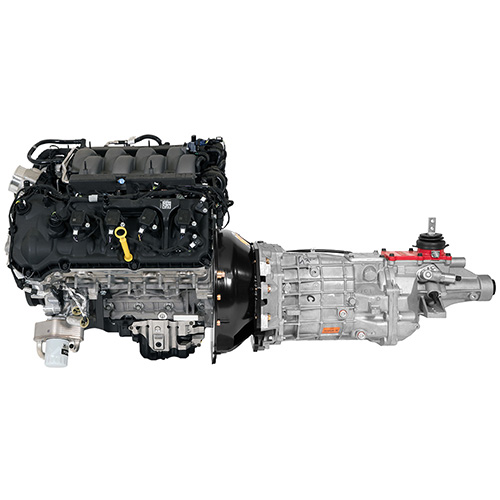 M-9000-PMCM3
Sold in Units of
Each (1)
Instruction Sheet
Not Available
WARNING:

This part is designed and intended for competition use only or off-highway use only. It should not be installed on a vehicle that is driven on public roads and highways. Installation of this part on a vehicle driven on public roads and highways is likely to violate U.S. and Canadian laws and regulations relating to motor vehicle emissions.

Complete Modern Powertrain Solution for Any Ford!
NOW AVAILABLE WITH 2018-2020 Mustang GT 5.0L 460 HP Coyote Engine!
Tremec 6 speed manual transmission
Complete Engine Controller and Wiring Harness (Control Pack)
Next generation 5.0L power all in one complete powertrain kit. The crew at Ford Performance have spec'd out a kit to simplify the swap of the newest, most innovative 5.0L Coyote engine into just about any Ford vehicle. The Coyote Power Module teams the Mustang GT 460 horsepower 5.0L Coyote V8 with a state of the art Tremec 6-Speed transmission - and all the electronics and hardware to finish the installation. The engine features advances like Direct and Port Fuel Injection, Twin Independent Variable Camshaft Timing, and a lightweight plasma transferred wire arc spray aluminum engine block. Coyote Power Module simplifies both the shopping and build experience by kitting up the right parts that are matched to deliver potent performance with civilized drivability. The engine Control Pack is truly plug and play and simplifies conversions to a modern electronically fuel injected V8 high performance engine.
2018-2020 Mustang GT 5.0L Coyote Engine - M-6007-M50C
460 Horsepower @ 7,000 rpm
420 lb.-ft. Torque @ 4,600 rpm
12.0:1 Compression ratio
Aluminum block

Boss 302 Alternator Kit –

M-8600-M50BALT
Starter and Starter Index Plate
Control Pack PCM and installation kit is tunable for power upgrades - M-6017-M50B
Runs on pump gas
Steel Quicktime Bellhousing
Roller Pilot Bearing – M-7600-B
Tremec 6-Speed Transmission 2.66 1st

gear -

M-7003-M6266

Clutch Fork / throw-out bearing
Clutch Kit M-7560-T46
Billet flywheel M-6375-G46A
Installation hardware
Note: Engine will be fitted with dual mass flywheel installed. Included is billet flywheel, to be installed on engine before installation into vehicle
Part Type
Engine: Complete Engines
Box 1 Dimensions
36.5" x 61" x 36"
Box 2 Dimensions
42" x 27" x 48"
Country of Origin
Multiple Cntry Mfg. Locations