Due to COVID-19 staffing precautions, the Ford Performance TechLine phone system is offline. We are still here to help. Live Chat is available. Click here for contact information.
5.0L GEN 3 ALUMINATOR NA CRATE ENGINE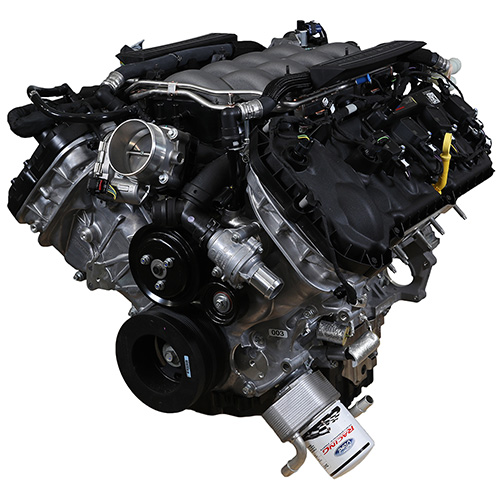 M-6007-A50NAB
Sold in Units of
Each (1)
ATTENTION:

This part is intended as a replacement part for use only in the application(s) identified in the product description. Installation of this part in a vehicle for which it is not intended may violate U.S. and Canadian laws and regulations related to motor vehicle emissions.

Ford Performance has taken the Gen 3 Mustang GT 5.0L Coyote engine and created another in its series of "Aluminator" crate engines built to deliver higher performance. The 5.0 Aluminator NA is built with connecting rods and pistons designed specifically for high performance applications. Mahle® 12.0:1 compression ratio forged pistons are hard anodized and feature Grafal® low friction coating. The connecting rods are premium Manley ® H-beam with ARP® 2000 bolts. The Gen 3 5.0L Aluminator NA is a direct bolt in for 2018-2020 Mustang GT.
Fits 2018-2020 Mustang GT




5.0L (302 cubic inches)




12.0:1 compression ratio (nominal)



460 horsepower @ 7,000 rpm
420 ft.-lb. torque at 4,600 rpm

Mahle® Hard Anodized forged pistons with Grafal® low friction coating




Manley® H-beam connecting rods with ARP® 2000 bolts

Forged steel crankshaft




Uses production 2020 Mustang GT aluminum block



10 quart oil pan

Tuned composite Mustang GT intake manifold with production drive by wire 80 mm throttle body variable runner control




Four-valve-per-cylinder aluminum heads with roller-finger followers reduce friction.

Mustang GT production camshafts

Includes Ford Performance colder, heat range zero (0) spark plugs,

M-12405-M50A


Includes Ford Performance oil filter -

M-6731-FL820


Includes billet steel gerotor oil pump gears

M-6600-M50A

Vehicle harness and PCM not included. Use Ford Performance wiring, PCM and installation kit M-6017-M50B designed for manual transmission street rod/project car installation. Can also be equipped with automatic transmission controls pack - see M-6017-M50BA more information.

Does not include alternator, for alternator kit see

M-8600-M50BALT or M-8600-M50ALTA


Engine mount bosses and bell housing mount pattern common to 4.6L modular engines

Does not include exhaust manifolds
See an Aluminator Engine build-up here
See a Gen 3 Aluminator artcle here
Part Type
Engine: Complete Engines
Packaged Dimensions
36.5" x 44.5" x 36
Packaged Weight
586 lb(s)
Country of Origin
Multiple Cntry Mfg. Locations